Alexandre Ballerini, Esq.
Education
St. Thomas University School of Law, J.D., 2012
Harvard Business School Executive Program, 2008
University of Hartford, M.B.A., 1996
Bryant University, 1995
University of Hartford, B.S.B.A., 1993
American Business School of Paris, 1992
French Baccalaureate Cum Laude, 1990
Bar Admission
Florida Bar
District of Columbia Bar
New York Bar
Association Member
American Bar Association
Florida Bar Association
D.C. Bar Association
Miami Dade County Association
Languages
English
French
Italian
Spanish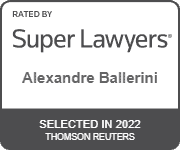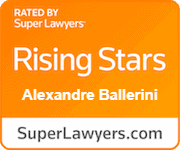 Alexandre Ballerini, Esq.
Multilingual attorney Alexandre Ballerini holds a Juris Doctor degree and an MBA degree, with prior business experience in the fields of venture capital, technology startups, e-commerce, banking, management, real estate finance and development.
Alexandre's business track record includes a vice president position at a prominent Miami real estate brokerage firm where Alexandre oversaw the market placement of a $3 billion real estate portfolio. Subsequently Alexandre became vice president at a national real estate investment firm where Alexandre oversaw close to a $2.5 billion in acquisitions and market placements.
In his law practice Alexandre focuses in the areas of corporate & partnerships structuring, real estate transactions, international taxation, arbitration & litigation.
Overseen transactions include real estate acquisitions & dispositions involving international tax matters & 1031 exchanges, title review & issuance of title insurance (licensed with Fidelity, The Fund and NATIC), real estate financing & development, condominium governance, residential & commercial leases, multilayered corporations & partnerships formations, international structures & taxation, mergers & acquisitions, private equity, venture capital & corporate finance.
Resolved disputes in and out of court involving real estate & contracts disputes, shareholder derivative suits, landlord tenant disputes, partnerships disputes, corporate governance, breach of fiduciary duties, judicial dissolutions, partition suits, condo disputes, city violations mitigations, condo termination defense and prosecution, FDUTPA cases, divorces, unjust enrichment, fraud, civil theft, enforcement and domestication of foreign judgments. Alexandre's prior business experience has proven to be a major asset both in transactional and in conflict resolution settings.
Alexandre's fluency in Italian, French, English and Spanish has proven to be a major asset in settings involving international transactions and disputes.
Our goal, when we counsel our clients, is to avoid future conflicts and litigation. Our transactional lawyers collaborate with our litigators to ensure maximum protection. For each litigation case, the key is to assemble the right team of researchers, drafters, experts, and advocates. Through Alexandre Ballerini P.A., clients have access to a network of attorneys, forensic accountants, and board-certified legal specialist. Mindful of our clients' concern with the costs of legal representation we are flexible in our compensations' structures.
– Alexandre Ballerini, Esq.
Contact me today for a 30-minute consultation to take the next step for your business!